Rebecca Tiscali The Netherlands / December 23, 2002

Die schönste Seite ist der unvergesslichen Sängerin Hilde Güden gewidmet.

John Howieson Canada / November 8, 2002

It's wonderful that people like you take the time to spread a wealth of knowledge with that of the rest of the world! I landed up on your website looking for, and finding information on the career of Heddle Nash , and of course spent several hours this evening reviewing others of that era and earlier. Thank you!

Nathan Davis USA / November 8, 2002

What a pleasure to find such a wonderful and comprehensive site dedicated to great artists of the past. Collecting historical recordings has also been a hobby of mine since the day in 1963 when I received a reply to my fan letter to Geraldine Farrar . I will certainly visit here often...and you have been added to my "Favorites" list.

B. Bahman United Kingdom / November 3, 2002

I was very surprised and happy to discover your page about Nina Koshetz. Thank you very much for the sound file as well, I had never heard her before :) I have a site about Rachmaninoff, and I would very much like to link to your webpage.

Deborah Andrews USA / October 22, 2002

What a gift your website is. In looking for information on the three famous baritones - Battistini, Ruffo,and de Luca - who studied with Venceslao Persichini, I found your website invaluable. Keep up the great work!

Christina Plourde USA / October 16, 2002

I was searching for what little I thought I'd find of Rita Gorr when I stumbled upon your site. I must say, this is one of the best sites I've ever come across. Thank you very much. You've been added to my list of favorites.

Walter Chilman USA / October 14, 2002

I am absolutely overwhelmed by your magnificent site and thank you profoundly for the opportunity of sharing it.

Neil Nicastro USA / October 8, 2002

A special thank you for the Hilde Güden section - many years ago, Sol Hurok used to send great artists all over the country in his "Community Concert" series. On my 11th birthday, Hilde Güden sang in our small town in NJ - I got a kiss for my birthday and I was hooked on opera for life - what a fine singer and lovely lady.

Helge Evju Norway / September 4, 2002

What a fascinating collection! Internet has truly opened great vistas! As an operatic pianist and coach I learn a lot about vocal history which is essential and that many people today sadly neglect. Thanks for shedding light on many singers of the recent past that do not deserve the oblivion they have fallen into! I am looking forward to more entries!

Rüdiger Schmedemann Germany / August 26, 2002

Herzlichen Dank für die von Ihnen mit großer Hingabe gestaltetet Internetseiten, die ich wiederholt mit großem Interesse eingesehen habe. Dabei habe ich viele Informationen und Anregungen für die Erweiterung meiner CD- und Schellackplattensammlung erhalten.

Bei dieser Gelegenheit möchte ich Ihnen besonders für das reichhaltige Angebot Ihres online-shops danken. Sie recherchieren sehr sorgfältig alle Neuerscheinungen und liefern die bestellten CD in kürzester Zeit. Ich kenne kein Fachgeschäft, das es Ihnen in diesen Punkten gleichtun könnte.

Herzliche Grüße und vielen Dank für wundervolle musikalische Entdeckungen. Ich frage mich immer wieder, aus welchen Gründen die großartigen Sängerinnen und Sänger bei vielen Musikliebhabern auf so wenig oder kein Interesse mehr stoßen. Beim Sammeln meiner Opernaufnahmen habe ich zwar immer darauf geachtet, möglichst sehr unterschiedliche Sängerbesetzungen zu erwerben - zu den alten Aufnahmen habe ich aber auch erst sehr spät gefunden.


Heidi Putscher Basave Mexico / August 22, 2002

Soy estudiante de ópera en el Conservatorio Nacional de Música de México. Escribo para felicitarla, pues su página me ha fascinado. Fue a los quince años de edad que encontré mi vocación por el canto, si en aquel tiempo hubiese encontrado su página, me hubiera ahorrado algo de trabajo. La información que en ella se encuentra es valiosísima. Ya eran familiares para mí en esas primeras épocas, por los libros que consultaba, los nombres de cantantes como Vinay, Farrar, Ponselle, La Malibran, Melba, De Hidalgo, entre otros. Sin embargo, a pesar de conocer el impacto que algunos de ellos causaron en el mundo de la ópera, no conocía sus voces, ni su físico, el poder escuchar a los cantantes del pasado y conocerles a través de las biografías y fotografías que usted presenta ha sido fructífero a mi persona en todos los sentidos. Escuchar las grandes voces del pasado es una gran experiencia para cualquier amante del arte vocal. Podemos aprender mucho de ellos y es precisamente por ellos, que tenemos hoy, grandes voces en el mundo de la ópera.

Por otra parte, esta página es un excelente instrumento para encontrar bibliografía básica sobre pedagogía del canto y bibliografías. A mí, lo que me interesa en particular es lo primero, la pedagogía del canto. En México, no encontramos fácilmente libros sobre ópera y mucho menos sobre pedagogía del canto, pues la ópera no es un arte plenamente arraigado entre la población. Me enteré por el libro de Fischer-Dieskau, Die Welt des Gesanges, que

Manuel García padre e hijo, habían escrito tratados sobre la enseñanza del canto, y gracias a su página pude encontrar la ficha bibliográfica así como muchos otros tratados. Los fundamentos del canto como de toda nuestra cultura están cimentados en el pasado e ignorarlo sería una gran pérdida.

Por ello, deseo felicitarla y agradecerle por su contribución. Hoy, ocho años después de haber tomado la decisión de dedicar mi vida entera a la ópera, encuentro que en el mundo aún existen personas sensibles a este arte y que desean conservar su historia y esencia. Muchas Gracias.

Helena Neuman Canada / August 21, 2002

I found your website by mistakingly clicking when I was looking around for other information. Don't we usually discover some of the most wonderful things in error and by chance... Just let me say that the information is so bountiful, I find myself many a night -- [...], sitting for hours and reading anything I can about all these wonderful singers. I was delighted to discover the beautiful photos of Geraldine Farrar and Virginia Zeani and they are now in my picture library to look at, as well listen to the excerpts you are kind enough to provide [...]. Dziekuje bardzo.

Pablo Yzquierdo y Pino Mexico / July 21, 2002

Estimada Andrea: Nos das de beber a los que ya no soportamos este desierto por el que hoy transitamos sin ninguna esperanza. Qué enormes se alzan algunas de esas voces. Escuchando a María Barrientos uno no puede más que sorprenderse e imaginarse lo que debió de ser la verdadera coloratura. Ultimamente ando redescubriendo a Simoneau. Qué fino era. De la escuela francesa ya no queda nada. Adiós a Faust, y a Manon. Adiós. ¿Y qué me dices de Alfredo Kraus? Cada una de sus arias se levantan, a medid a que se escuchan, como verdaderas creaciones, como enormes construcciones. Y siempre vuelvo a Jussi . Nadie canta como él. Más la devoción que siento por Knappertsbusch. Volveré a tus archivos, Andrea. Las fotos, invaluables.

Austin Gunn United Kingdom / June 26, 2002

What a great site. I myself study with a student of Joseph Hislop, teacher of Björling and Nilsson, and maintain a site http://www.expage.com/austingunn.

Bob Buscombe USA / June 1, 2002

What a wonderful web site, I've been searching for something like this, and now I've found it. My love of opera goes back 60 years. I'll click here every morning from now on.

Donn L. Byrne USA / May 29, 2002

Love your site! I was shocked and saddened to discover that the great Eileen Farrell has recently passed away. She has always been one of my special favorites. One of the most wonderful recordings she ever made was of a concert version of Cherubini's MEDEA. Maria Callas was a wonderful actress in the expression of the music, and of course, she was a Greek herself -- which gave additional interest, but no one (probably) since Esther Mazzoleni sang this murderous role with more passion (she acted with her voice). If you haven't heard it, you are in for a real treat. Andre Turp as Jason and Ezio Flagello as the King back her up superbly. It is certainly worthy of mention on your site. Thanks!

Enrique Sanchez USA / May 20, 2002

I found your site through a link on Mr. Charles Handelmann's site while investigating Virginia Zeani. All I can say is thank you (many times) and congratulations on compiling such an impressive site. I have recommended it to my friends on the opera-list I am a member. You have done a great service to the history of the vocal art and you should be commended. I am so pleased to have found it. Keep up the outstanding work!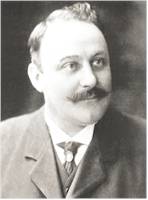 Rose Marie Patroni Scaremberg Argentina / May 14, 2002
Felicitaciones Andrea: perdón por escribir en castellano, pero mi ingles no es correcto y en francés, pese a ser mi lengua materna, leerlo, hablarlo y comprenderlo muy bien, escribo con faltas de ortografía. Luego le contaré porqué. Soy la nieta de Emile Scaremberg, hija de Yseult Scaremberg (también se escribe Scarramberg). [...] Estoy muy emocionada de haber encontrado este sitio donde se menciona a mi abuelo. [...] Muchas Gracias
Emile Scaremberg (1863 - 1938). Rare recordings on Fonotopia (1905) and Odéon (1905/06).
"Prince du Rhin" from Reyer's Sigurd
Esteban Ariel Rajmilchuk USA / April 29, 2002
Bravissimo, Andrea! I am studying opera coaching and conducting. Your website is the best I have ever seen! And so helpful! I found specially helpful the voice categories and fach section. You did a wonderful job specially with the roles and their required fachs. [...] Bravo again!
Richard Kortman USA / April 28, 2002
Very impressive website. Interesting and informative, especially the biographies with words and pictures nicely interwoven. I stumbled upon your site when reading the article on George Ots in the electronic version of Helsinki Sanomat (newspaper). A site to bookmark, for sure.

Bruce Williams Australia / April 23, 2002
I was listening to some sopranos from imperial Russia (on the Mike Richter reissue of Singers on Record ) when I became curious about one of them. I looked on the Web and to my delight there she was. You probably know that the documentation for that series is hard to get, & in book form, very expensive. You are contributing to the pleasure and knowledge of all of us who love the old singers and I thank you. I teach a subject on opera and music-theatre in the Theatre Department here. I'll spread the word as widely as I can about what you provide - and I shall know how to get those hard-to-get CDs.
Tula Giannini USA / April 22, 2002
By chance I came across your wonderful database. My husband's aunt was Dusolina Giannini , so I was delighted her well represented. I visited Dusolina in Zurich shortly before her death - she was living at the Sheraton Hotel. Her sister, Euphemia Gregory (Giannini) taught voice at the Curtis for about 40 years, among her students were Judith Blegen and Anna Moffo. Thank you for your fine contribution to opera. With best wishes.
Hélenton C. Mendes Brazil / April 16, 2002
Thank you so much for this fantastic website. I've been looking for old singers for a long time but I wasn't able to find them. What a wonderful surprise to come across this superb collection. You've made my day! Thanks again.

Elaine Karlsson USA / April 10, 2002

Please accept my compliments for a superb website! I visit it every now and then, with great pleasure. I've just read your informative section on Antonio Cortis. A truly marvelous tenor! [...]. Keep up the good work! With all good wishes.

Frank Munafo USA / April 8, 2002

Opera lovers all over the world owe you a depth of gratitude for your excellant Website ! I have seen most of the great singers in the last 50 years in the US and abroad . The singer that has given me the most consistant satisfaction is Helge Rosvaenge. There is no tenor today that can match him for power, range, phrasing and vocal panache. Best regards and keep up the great work.

Jerry Margala USA / April 4, 2002

Thank you so much for the inestimable service your web site provides. I always find something of interest there: the photographs you provide of the singers and your apt commentary on them provides much to ponder. I was surprised to find your references to live performances of Germaine Lubin. I hope I live long enough to hear them.

M.F.G. Peter Romania / April 1, 2002

Ich habe Ihnen schon früher eine Mail geschickt,aber ich glaube Sie haben sie nicht bekommen. Ich möchte mich hiermit nocheinmal für die Seite mit Félia Litvinne bedanken. Sie ist wirklich fabelhaft. Die ganze Webpage ist einfach toll.

Miles Clery-Fox USA / March 30, 2002

Ich habe Ihre Webseite sehr genossen; vielen Dank. [...]

Friederike Rentzsch Germany / March 30, 2002

...and especially for your progeny of teachers. Being a singer myself I realized that the line of my teachers leads back to Manuel García, as my teacher studied with Franziska Martienssen-Lohmann. I have to say, this fact somehow encourages me...

Kent Johansson Sweden / March 25, 2002

Once again I would like to thank you for a fantastic website. Great idea ! The whole function is brilliant, first a biography of appropriate proportions, then the roll portrait and all of the artist s recordings together with a critique of the singer, and lastly, the possibility to download one or several recordings. This is absolutely the best opera site on the net. [...] Thank you once again ! [...]

Kristel M. Skorge Norway / March 13, 2002

Dear Andrea - what a beautiful and interesting website!

Miriam Charney USA / March 12, 2002

Thanks very much for your most interesting website. I am a coach in NYC, and especially find the listing of bel canto teachers and their progeny so interesting!

John Porter-Davison USA / February 25, 2002

I have recommended your site to everyone that I can lay my hands on. I , and many friends, treasure the period 1900 to 1940. And like you, we love to discover the second 11 as we call it. Not the great names, but voices that really do have something to contribute to the history of vocal art. You are doing a wonderful service to the world of opera. Thank you.

Greg Ellis Australia / February 5, 2002

You have a fantastic website. It is now at the top of my favourites list. Your knowledge and erudition are excellent and a superb resource for all lovers of great singing from the past. [...]

PS. on a minor editorial point you will notice that the caption of the fifth of your photos for

Risë Stevens is wrong. As you will immediately recognise, the conductor with her on the left is Fritz Reiner not Bruno Walter.

Sorry for the mistake :)

Joseph Lewitt USA / January 25, 2002
Darf ich Ihnen sagen, wie fantastisch ich Ihre web site finde!! Ehrlich! Bravo. Ich bin ein Sänger, der in Deutschland von 1984-1994 sang. Jetzt bin ich wieder in den Staaten und singe immer noch. Letzlich mit der New York City Opera, wo ich den Rodolfo in La Bohème sang. Später in dem Jahr werde ich Madama Butterfly singen. Auch ich liebe die alten Sänger. Der Großvater von meiner Frau war Ferruccio Corradetti, dessen Tochter, Iris Adami-Corradetti, Ihnen sicherlich bekannt ist. Ich möchte Ihnen danken und hoffe, dass Sie mit Ihrer web site fortfahren mit großem Erfolg.