(Reisen) Ukrainian bass, 1895 - 1992
Biographical notes:
During his early childhood he heard songs sung by the workers of the coal mine, where his father was employed as an operation manager. These plaintive songs and the hard life were a formative experience for him. The urge to become a singer was so overwhelming that at the age of sixteen he joined a group of strolling players, who acquainted him with the diversity of theatre life. His vocal capablilites became soon evident and he found sponsors who enabled him to take singing lessons. He had to do military service in Worldwar I. From 1917 to 1919 he studied at the Conservatory in Charkov. In 1921 he made his debut at the local opera house as Pimen. Subsequently he sang Gremin, the title-role in Rubinstein's The Demon and Orlik in Tchaikovsky's Mazeppa. Soon he was invited to sing Basilio and Mephistophélès (Faust/Gounod). From 1925 to 1930 he sang at the Leningrad Opera (Kirov Theatre, now Mariinsky) and added many roles to his repertoire, primarily Russian repertory. He sang Boris Godunov in 1928 for the first time. He was much admired as Dosifei in Khovanshchina, Ruslan in Ruslan and Ludmilla, Ssobakin in The Czar's Bride and Salieri in Mozart and Salieri, as well as some other roles in (forgotten) operas by Soviet composers. In 1930 he was invited by the Bolshoi theatre in Moscow and he remained a famous member of the ensemble for more than twenty-five years. Guest performances led him to Monte Carlo, Berlin, Budapest and Paris. He was also an acclaimed recitalist. In honour of this 90th. birthday in 1985 he sang the role of Gremin at the Bolshoi! He was awarded and decorated many times, he also received the title "People's Artist of the USSR".
Boris Godunov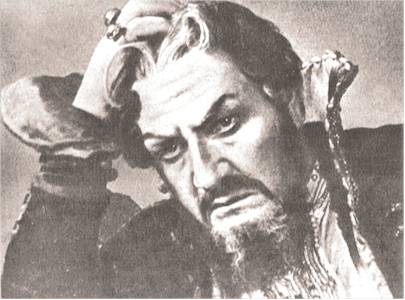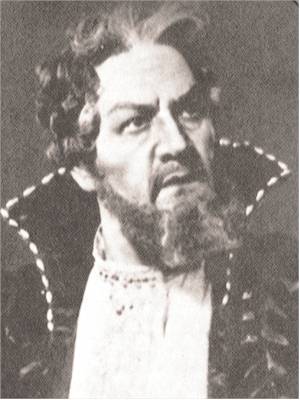 Recordings:

Borodin - Prince Igor (Melik-Pashaev 1952/Ivanov, Smolenskaya, Lemeshev, Pirogov, Borissenko

LYS

Gounod - Faust (Niebolssine 1948/Kozlovsky, Schumskaya, Burlak)

LYS

Mussorgsky - Boris Godunov (Golovanov 1948/Mikhailov, Lubenzov, Nelepp, Kozlovsky, Khanaev, Maksakova, Zlatogorova)

LYS

Mussorgsky - Khovanshchina (Khaikin 1946/Preobrazhenskaya, Freydkov, Nechaev)

LYS

Mussorgsky - Khovanshchina (Niebolssine 1949/Maksakova, Khanaev, Ivanov)

LYS

Rimsky-Korsakov - Mozart and Salieri (Samossud 1951/Kozlovsky)

LYS

Rimsky-Korsakov - Sadko (Golovanov 1952/Nelepp, Shumskaya, Davydova, Kozlovsky, Lisitsian)

LYS

Recital Vol. 1 (Arias from A life for the Tsar, Ruslan and Ludmilla, Rusalka, Boris Godunov, Khovanshchina, The Demon, Prince Igor, Eugene Onegin, Sadko, Aleko)

Preiser - LV

Recital Vol. 2 (Arias from Roussalka, Faust, Il Barbiere di Siviglia, I Vespri Siciliani, Don Carlos, Simon Boccanegra, The Walkyrie, Boris Godunov)

Preiser - LV

20 Great Basses sing Great Arias Vol. 1

Pearl

20 Great Basses sing Great Arias Vol. 2

Pearl

Mike Richter's Opera Page: Stars of David/TheRecord of Singing Vol. 3 and 4

CD-ROM
As the Viking Guest in Rimsky-Korsakov's "Sadko"

Comment:

He is a warm, firm and authorative bass. He is more subtle and refined than some other Russian singers at his time. I like him very much in Boris Godunov, in which he is less "tormented" and intense than Chaliapin. It is a carefully studied and varied portrait, always clearly enunciated, certainly one of the greatest. He "plays" his voice like a cello.

I recommend you to purchase the good recordings of the French labels Arlecchino and Lys

(Dante Productions). They release many of the interesting opera recordings produced in the 1940/50s during the Stalin era. Golovanov, Samossud, Niebolssine and Melik-Pashaev were truly great and authentic conductors. You can also discover many of the most renowned Russian singers. If you compare the singers of this period with the singers of Imperial Russia you will notice a certain decline in singing (with some exceptions of course). We should not forget that the possibility for singers to travel and to study abroad came to an abrupt end after the revolution.

LYS provides fine booklets with rare photographs and plenty of information. If you are interested in Russian music and singers, these two labels offer true treasures.

I have attained power in Russian (Title role in Boris Godunov / Mussorgsky / USSR 1948)